The Nottingham residencies will be split across many sights including Nottingham Contemporary, and properties managed by Nottingham City Museums & Galleries including; Newstead Abbey, Wollaton Hall and Nottingham Castle (closed for renovation until Spring 2021).
Residencies at Newstead Abbey
Haunting Newstead Abbey
May 2021
Over the three years of research within Dancing Museums, Eleanor has been interested in working with museum sites in response to their specific history, content and context. This has been especially shaped by the fact that two of the allocated sites in Nottingham are historic buildings with very unusual collections (namely Wollaton Hall, home to the Nottingham Natural History Museum and Newstead Abbey, home to a collection of Lord Byron memorabilia).
Eleanor was particularly interested in the legacy of transatlantic slave money and colonialism present at Newstead. She was struck by how this history was only a small part of the museum's public narrative and was unsure as to how she could address this within the context of the Dancing Museums research project.
Eleanor decided to invite other artists into the project: choreographers and dancers who are, in different ways, addressing these racialised histories within their existing research projects.
Eleanor curated two choreographic residencies. In July 2021, artists Mary Pearson and mayfield brooks spent two weeks at Newstead, will exploring their ancestral connections with transatlantic slavery. Their transatlantic collaboration was rooted in their virtuosity as improvisers to craft affecting work quickly. They created a live performance which was held in the house and gardens of Newstead Abbey, and made two film installations with lens based artists Ben Harriott and Amanda Russell.
In August 2021, choreographer Seke Chimutengwende and dramaturg Charlie Ashwell worked with five dancers (Natifah White, Rose Sall Sao, Rhys Dennis, Alethia Antonia, and Adrienne Ming), exploring how the history of the transatlantic slave trade haunts the present and how haunted houses can be a metaphor for this experience. Seke also worked with lens based artists Ben Harriott and Amanda Russell to create photographs of the dancers inside the museum.
The residencies in Newstead Abbey were a chance for the artists to deepen their research in a unique and historically loaded site. The film and photography from both residencies was displayed in the museums as part of the exhibition 'Black Newstead', Oct – Dec 2021, and will be incorporated into the permanent collection in early 2022.
Curating these residencies tied in with Eleanor's interest in hosting dancers in sites that are not typically used for dancing. In the role of curator she can carve out space for the artists on the site allowing them to arrive as guests and not strangers; this might involved practical steps, such as making sure there is drinking water nearby, or it might be something more personal, such as making sure the museum volunteers and artists have met each other.

Residency at Dance4's iC4C
August 24, 2020
In August 2020 Eleanor spent a week at Dance4's iC4C with Lewys Holt. Discovering their dancing again after the long lockdown of early 2020. Although framed by the context of Dancing Museums, Eleanor didn't spend the time thinking specifically about museums. Instead, she used this residency as an open time to dance: dusting off and trying things out after a long break. Eleanor and Lewys choreographed, improvised, sang karaoke, spoke and danced in contact (they are a couple so this was covid-safe).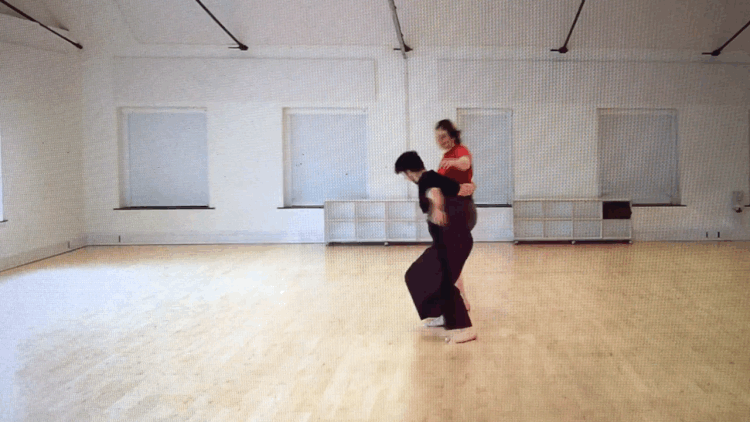 Residency at Nottingham Contemporary
January 2020
Eleanor spent a week and a half in a small studio at Nottingham Contemporary. Dance artist and collaborator Lewys Holt joined her for some of these days. The gallery was closed because it was in between exhibitions, so she spent the time researching and exploring the themes that had come up so far for her within the project: framing, collecting, climate and environment and re-enactment. These are some of the texts and images that came from the residency (Photos by Eleanor Sikorski):
Filling the Frame
January 20, 2020
Games in frames.
Got games on the brain.
Creating things to play with.
Creating ways to play with things.
Ways to play with each other.
Taxidermy
How about we think of it as a loving reconstruction of something that is lost, or might be lost soon.
Most taxidermy is road kill.
I heard about a woman with a stuffed Curlew (a wading bird).
Curlews are endangered because we ruined their habitat.
Not because we shot them.
Taxidermy
Not the trophy kind, but the 'in remembrance' kind.
Day one at Nottingham Contemporary.
Residency.
It's not residential… but
I'll be leaving my stuff there overnight.
Stuffed. Birds.
Disaster Dioramas
January 21, 2021
Task. Recreate. Reconstruct. Reenact.
Google-image-grab animal giants.
Cooped up and dead.
Make it again, in this room, with this stuff.
Day two. With Lewys Holt.
ONLY VERBAL DIRECTIONS.
Roots
January 27, 2021
Imbuing things with value.
That doesn't mean the value is false.
Maybe imbuing it helps us to find it.
Fake it 'til you make it.
A fragment of the past wasn't important, until we decided it was.
Or maybe it was. For some body at some time.
It was important until we decided it wasn't,
or we just never heard about it.
Maybe importance is not as important as we think.
"Welcome to the room. I've heard you're an expert", I might say,
making this visitor feel welcome and important
or rather
making this visitor actually welcome and important.
"These objects need categorising, need a reason to be here, need to be contextualised, need to be named, need to be explained. Dear expert, please help me decide."

July 2019
Eleanor Sikorski spent several days visiting the museums in Nottingham and meeting the people who work on specific collections there. The spaces vary between a contemporary art gallery without regularly changing exhibitions, a historic house and gardens built using slave money and a science museum housed inside a mansion, inside a deer park… Nottingham has it all! The organisations are wildly different and are all on their own journey to face their futures and their pasts with care and imagination. This period of research was a time for Eleanor to get to know more about the different spaces and specifically find out about how they accommodate and welcome their visitors.
She met Adam Smith, Co-curator of Natural Sciences at Wollaton, who took her on a tour of the parts of the Natural Science collection which are not on public display (think stuffed kangaroos, snakes in jars and thousands of fossils and eggs) and she met Simon Brown, Curator at Newstead Abbey, who is re-imagining how visitors view Lord Byron's former home.
Visit Eleanor's blog to see her reflective drawings and writings on this residency period.
---
CONNECTIONS
Dance4 (UK) // Eleanor Sikorski (UK) // Nottingham City Museums & Galleries (UK) – Associate Partner // Nottingham Contemporary (UK) – Associate Partner //